Student and faculty research on display at JIBC Applied Research Day
Research projects conducted by students, faculty and staff at JIBC explore real-world issues to help keep communities safe
More than 30 different research projects conducted by JIBC undergraduate students, faculty and staff were highlighted at this year's Applied Research Day at the Justice Institute of British Columbia's New Westminster Campus yesterday.
The focus of this year's event was to recognize the significant scholarly undergraduate research conducted by students in JIBC's various degree programs. As part of the applied nature of JIBC's degrees, students are required to complete a capstone research project on a relevant issue or topic that is of interest to the student. This year's event showcased student research originating from JIBC's Bachelor of Law Enforcement Studies, Bachelor of Emergency and Security Management Studies, and the Bachelor of Public Safety Administration programs.
"Applied Research Day was a great opportunity to recognize our undergraduate students whose research is aimed at making real-world contributions to public safety," said Dr. Greg Anderson, Dean of the Office of Applied Research and Graduate Studies. "Through their academic work, they explored a broad range of important questions and issues in public safety. The fact that some of the student work has sparked additional research by public safety organizations in B.C. illustrates the impact JIBC capstone projects are having in the field."
Among the student research projects presented was one by Haida Siegmann, Captain of the Fire Prevention Office for the City of North Vancouver and a graduate of the Bachelor of Public Safety Administration. A long-time North Shore resident, her project evaluated the options available for neighboring communities to achieve economies of scale to increase cost-efficiency in the delivery of municipal services.
"The topic of my research paper was driven by my desire to identify a need, not only in the Fire Service, but also in my community, and to have a project that was broad enough to be useful outside of the Fire Service," she said. "Amalgamation is a topic that is often discussed among residents…The question I wanted to answer was whether economies of scale could be achieved through such efforts as amalgamation or inter-municipal cooperation."
The results of her study, which were first presented at Colleges and Institutes Canada's 2016 Applied Research Symposium held in Winnipeg in March with funding from The JIBC Foundation, identified a number of considerations municipal decision-makers must take into account when trying to increase cost-efficiency without impacting the effectiveness of service delivery.
Faculty and staff research making a difference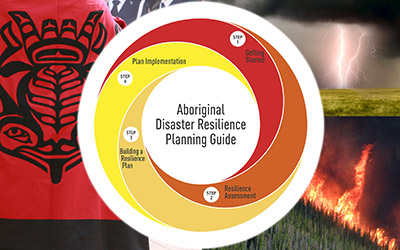 In addition to the scholarly work by JIBC's students, Applied Research Day highlighted the many research-based initiatives being conducted across the Institute.
For example, JIBC, Camosun College and Selkirk College worked together on a research project funded by the Ministry of Advanced Education that explored ways to improve support for students with disabilities in the trades and technical programs.
With funding from Indigenous and Northern Affairs Canada, JIBC has been involved in developing and launching the Aboriginal Disaster Resilience Planning project, which aims to help Aboriginal communities across Canada increase their resiliency when faced with emergencies and disasters.
Funding from Defense Research and Development Canada and support from Emergency Management BC, has also led to JIBC spearheading the creation of a Critical Infrastructure Assessment Process for Local Governments to help communities examine the resilience of locally-owned critical infrastructure.
"JIBC's Centre for Applied Research has a growing track record of helping public, private and non-profit organizations answer real-world questions to help them become more efficient and effective," said Dr. Anderson. "And as Applied Research Day illustrates, our students benefit personally, professionally and academically through the applied research work they do. When aligned with the needs of key public safety stakeholders, it's clear that working together can make a difference."
About Justice Institute of British Columbia
Justice Institute of British Columbia (JIBC) is Canada's leading public safety educator with a mission to develop dynamic justice and public safety professionals through its exceptional applied education, training and research. JIBC offers internationally recognized education that leads to certificates, diplomas, bachelor's degrees and graduate certificates; exceptional continuing education for work and career-related learning and development; and customized contract training to government agencies and private organizations worldwide. Our education provides professionals with the knowledge, skills, and abilities to excel at every stage of their career contributing to safer communities and a more just society.
Last updated May 27, 2016