Student research on display at JIBC
Fifth annual JIBC Applied Research Day highlights the value of research that helps keep communities safe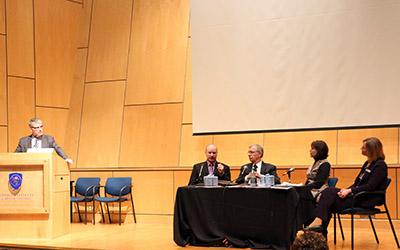 Dr. Greg Anderson, JIBC Dean of the Office of Applied Research and Graduate Studies, moderates a discussion on the importance of evidence-informed decision making in public safety professions on February 19, 2015 during Applied Research Day. Panelists included JIBC Research Associate Dr. Doug Abrahamson; Len Garis, Fire Chief of the City of Surrey; JIBC Research Associate Dr. Sheila Turris; and Dr. Laureen Styles, JIBC's Vice-President, Academic
Applied research improves public safety decision making and helps save lives.
Those were a couple of the key messages from the fifth annual Applied Research Day held at the Justice Institute of British Columbia's (JIBC) New Westminster Campus on February 19, 2015.
Several examples of research conducted by JIBC graduates and faculty were showcased at the conference that demonstrated the impact of the work being done at the Institute.
Saskia Holditch, a Bachelor of Public Safety Administration (BPSA) graduate and fire prevention officer in Pelham, Ontario, shared her research project that focused on creating a regional database to track intentionally set fires in the Niagara Region.
Sybille Sanderson, Emergency Program Coordinator at the Cowichan Valley Regional District and one of the first graduates in JIBC's Bachelor of Emergency and Security Management Studies Program, completed a capstone research project that explored the degree to which emergency management has been integrated into local government corporate culture.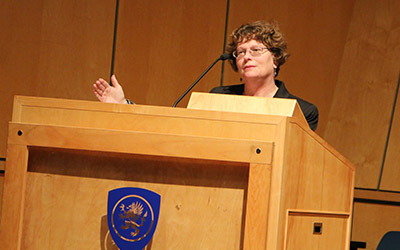 Sybille Sanderson shares highlights of the research she conducted as part of her studies in the Bachelor of Emergency and Security Management Studies Program.
Mariano Perini, deputy fire chief for Whitby, Ontario and another BPSA graduate, explored the physiological impact of fire investigators wearing personal protective equipment while working in hot environments.
"Each of these capstone research projects explored real-world issues that were identified by practitioners working in the field and resulted in some leading-edge applied research," said Dr. Greg Anderson, Dean of the Office of Applied Research and Graduate Studies. "That's quite remarkable for undergraduate research, especially since they are informing the development of best practice in their respective fields."
Other research conducted at JIBC was also highlighted such as the important work by the Simulation Training and Exercise Collaboratory (SIMTEC) Project; the development of a critical infrastructure assessment tool for local authorities; the Aboriginal Disaster Resilience Project; and the growing use of Open Educational Resources at JIBC.
The importance of obtaining information and conducting research to reach evidence-informed decisions in public safety was highlighted in a keynote presentation by Len Garis, Fire Chief of the City of Surrey, and in a panel discussion that included Chief Garis; JIBC research associates Dr. Doug Abrahamson and Dr. Sheila Turris; and Dr. Laureen Styles, JIBC's Vice-President, Academic.
"Applied research by our students, faculty and staff is increasingly contributing to public safety, not only in B.C. but across the country," said Dr. Anderson. "Their work is based on a passionate desire to make a difference, and is already improving the lives of public safety professionals and contributing to safer communities. This will only grow as more students embark on a capstone research project as part of their studies at JIBC, and our expert faculty continue their scholarly activities."
About Justice Institute of British Columbia
Justice Institute of British Columbia (JIBC) is Canada's leading public safety educator. Our specialized programs lead to certificates, diplomas, bachelor's degrees and graduate certificates in Law Enforcement, Investigations, Emergency Management, Firefighting, Paramedicine, Sheriffs, Corrections, Counselling, Leadership, Mediation, Conflict Resolution, and Driver Training. JIBC also provides customized contract training to domestic and international governments, agencies and organizations. Our approach to education emphasizes applied learning and realistic simulations, delivered by instructors who are experienced practitioners. Our students' work makes communities safer, and helps people in need, throughout B.C., across Canada and around the world.
Last updated June 12, 2019