Students from three Chinese police colleges graduate from JIBC program
Four-month law enforcement program aims to provide broader world view of policing to international students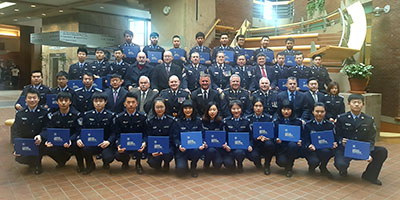 Future Chinese law enforcement officers are broadening their view of policing thanks to the international program provided by Justice Institute of British Columbia (JIBC).
The 56 police recruits and instructors from three policing colleges in China recently completed the new four-month International Law Enforcement Studies (ILES) program at JIBC's New Westminster campus.
Students learned about the latest policing practices and techniques in areas ranging from criminal investigations and community policing to leadership and ethics and counter-terrorism. They also received hands-on training and were taught by officers of specialized units from local municipal police departments while visiting several training centres and police stations in Greater Vancouver.
Student representatives from each of the three colleges spoke at a recent graduation ceremony, attended by New Westminster Chief Constable Dave Jones and Chief Constable Adam Palmer of the Vancouver Police Department.

ILES student Huang Zixia, speaking on behalf of the 14 students from Chongqing Police College, expressed appreciation at the education they received, including learning about the Canadian criminal justice system and the approach to policing that involves building trust through relationships in connecting with the public.
"We can convert Western ideas, customs and technology to our own, and customize them to our own applications," she said. "That's why we are here, transferring the know-how and experience across borders for well-being sake."
Zhang Weiqian, representing the 28 students from the People's Public Security University of China, said the four-month program opened their eyes to Canada and the cultural differences.
"I think all the experiences in this training are so important for our study in the future. We can apply them to our work and I am sure that it will bring great help," she said.
Wei Bo, the student representative of the 14-member delegation from the Guangxi Police College, said it was his first experience travelling outside China and despite being nervous and anxious initially, he is coming away with confidence and an ability to communicate here in Canada.
"I would like to thank all the teachers, you have taught us a lot of things, this knowledge will be with us in our life."

JIBC President and CEO Dr. Michel Tarko said at the graduation ceremony, "We appreciate the strong relationship we have developed with the Guangxi Police College, the Chongqing Police College, and the People's Public Security University of China … Today we celebrate the graduation of China's future law enforcement leaders who have completed our International Law Enforcement Studies program."
Tarko said the program is like many offered at JIBC which provides experiential, hands-on training to complement and emphasize lessons taught using traditional knowledge-based learning.
The International Law Enforcement Studies program is the latest offering from JIBC in international public safety education and training. In 2015, more than 400 students from nine different public safety institutions completed short-term training at JIBC. The new four-month ILES program was created in 2016 in response to interest in longer-term training programs after many years of JIBC providing two-week educational programs to police cadets from law enforcement colleges in China. Additional cohorts of ILES students are already scheduled over the next few years.
About Justice Institute of British Columbia
Justice Institute of British Columbia (JIBC) is Canada's leading public safety educator with a mission to develop dynamic justice and public safety professionals through its exceptional applied education, training and research. JIBC offers internationally recognized education that leads to certificates, diplomas, bachelor's degrees and graduate certificates; exceptional continuing education for work and career-related learning and development; and customized contract training to government agencies and private organizations worldwide. Our education provides professionals with the knowledge, skills, and abilities to excel at every stage of their career contributing to safer communities and a more just society.
Last updated February 16, 2017