TELUS brings learning to life with generous donation
TELUS community grant helps equip JIBC with new training equipment in Victoria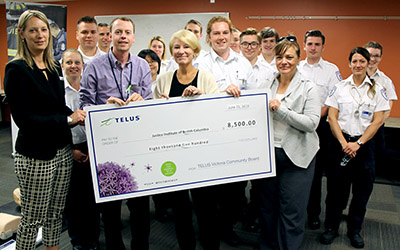 Kathy Harms, Director, Health Sciences Division and Christopher Duffin, Development Officer, with Jill Howard, TELUS Victoria Community Board Member, and Kathy Baan, Senior Manager, Community Investment, Vancouver Island and JIBC paramedic students at the Victoria Campus
Paramedic students at the Justice Institute of British Columbia (JIBC) will have greater opportunities to help youth and seniors in Victoria thanks to the generous support of TELUS.
JIBC has received an $8,500 grant from the TELUS Victoria Community Board to help purchase much needed training simulation equipment, such as resuscitation dolls and Automated External Defibrillators (AEDs). With this funding, JIBC paramedic students on Vancouver Island will have an enhanced ability to develop their skills in class, and also contribute to the community's health, safety and wellbeing by teaching essential lifesaving skills through a number of student-led community health workshops for youth and seniors. Participants in these workshops will have the opportunity to assess and manage basic life-threatening medical emergencies, and learn how to perform cardiopulmonary resuscitation (CPR) and use an AED.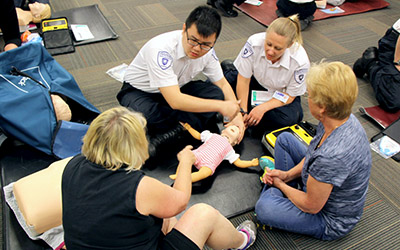 "Today, paramedics can be found in settings beyond the traditional ambulance environment, and increasingly, they are asked to provide public health education in the community," said Kathy Harms, Director of JIBC's Health Sciences Division. "Financial support from community partners like TELUS ensure students have access to the very best training possible to prepare them for the evolving approaches to patient care. The greatest impact of this gift will be felt by the broader community and their ability to assess and manage basic life-threatening medical emergencies."
JIBC's Paramedic Academy trains 1,000 Emergency Medical Responders and approximately 200 Primary Care Paramedic (PCP) students each year throughout the province. As leaders in justice and public safety, JIBC students are regularly supporting community initiatives, events and fundraisers as ambassadors and first responder attendants. Recent examples include football tournaments, community health demonstrations for seniors and youth, charity golf tournaments, donor appreciation events, and charity marathons.
Jill Howard, TELUS Victoria Community Board Member, and Kathy Baan, Senior Manager, Community Investment, Vancouver Island, were on hand at the Victoria Campus on June 15, 2016 to see firsthand how their gift is making a difference. Alongside 13 retirees, both were treated to an exclusive learning session with PCP students and the opportunity to practice lifesaving skills.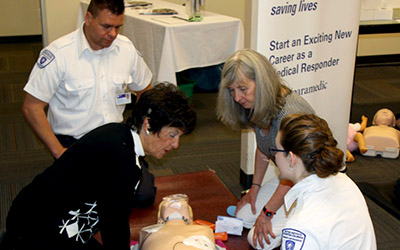 Joan Wall (right), participating in a community session practicing lifesaving skills delivered by JIBC Primary Care Paramedic students at the Victoria Campus.
"We are extremely fortunate to have the opportunity to participate in this session led by JIBC paramedic students," said session participant Joan Wall. "Many of us are grandparents to young grandchildren and were glad to learn or refresh our skills should an emergency arise. It was a great experience, very informative and who knew that learning could be so much fun! We are certainly feeling much more confident in our ability to help others in our community as a result of this wonderful experience."
In staying true to the company's philosophy "give where we live", TELUS, team members and retirees have contributed more than $135 million and 3.76 million volunteer hours to charitable and community organizations throughout British Columbia since 2000. TELUS has 15 local community boards dedicated to supporting local projects. The three Community Boards in B.C. have donated more than $12.9 million in support of nearly 1,500 local charitable projects since inception, in partnership with regional TELUS Community Action Teams.
"At TELUS, we believe every act of giving inspires another," said Kathy Baan. "As a team, we believe that in order to do well in business, we must do 'good' in the communities where we live, work and serve. We are confident this funding will make a difference to lives in Victoria."
"We are very grateful for this special grant," said Bernie Magnan, Chair of The Justice Institute of British Columbia Foundation. "For our next generation of paramedics to provide the very best care for patients, JIBC students need the very best tools. That's where donors make the difference. We sincerely thank TELUS for its generous contribution to student success."
About The Justice Institute of British Columbia Foundation
For more than 20 years, The Justice Institute of British Columbia Foundation (The JIBC Foundation) has inspired giving for important needs that enhance education, training, student learning and applied research at JIBC. These needs most often include student scholarships and bursaries, new equipment and technology, and other tools related to student success. As the recipient and steward of charitable gifts, The JIBC Foundation is building meaningful relationships with communities to support Canada's leading public safety educator.
Last updated September 13, 2016