Volunteer firefighter Cyril Ozeroff and paramedics Shayne Bucholz and John Semple: Heroic actions save lives
2012 JIBC Foundation Heroes & Rescue Award recipients to be honoured December 3
Cyril Ozeroff is the Local Manager of the Castlegar Community Corrections office during the working day, but volunteers much of his spare time keeping his community safe, as the Deputy Fire Chief of the Robson Volunteer Fire Department. Shayne Bucholz and John Semple are paramedics with a combined 38 years of experience with the BC Ambulance Service.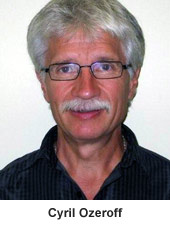 These three individuals share several common attributes: They have all completed studies at the Justice Institute of British Columbia (JIBC); they share a commitment to ensure the safety of residents in communities across BC; and they have been galvanized into action - above and beyond the call of duty - to save the lives of individuals in peril.
Cyril led First Responders who arrived on-scene in June 2011 to find an unresponsive 21-year-old male, with no vital signs. Cyril and his team immediately started and continued CPR, while en route to the Castlegar Health Centre, and in the Emergency Room. The team remained to assist the Emergency Room (ER) physicians and nurses, as well as attending paramedics.
According to Cyril, "the longer I worked on this person, the more desperately I wanted him to make it." Fortunately the young man did survive after spending three weeks in intensive care at St. Paul's Hospital in Vancouver.
Shayne Bucholz was working with his partner, John Semple, when they were dispatched to a motor vehicle collision in Vancouver. They arrived on-scene to find a critically injured man trapped inside a small car, engulfed in flames.
While John called to expedite the fire response, he positioned the ambulance to ensure safety at the scene. Shayne took the fire extinguisher from the ambulance to fight the flames.
After exhausting the fire extinguishers immediately at their disposal, John and Shayne stopped passing motorists to ask for any available extinguishers to continue their fight against the vehicle fire, prior to the arrival of the fire crews.
John and Shayne continued their life-saving care for the patient until he could be extricated and transported to hospital. Not only did John and Shayne demonstrate great initiative in commandeering extinguishers from passing motorists, their courageous efforts at fighting the fire also prevented the death of the patient.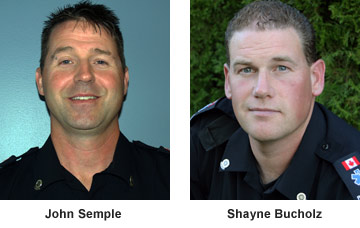 In recognition of their heroic actions, Cyril Ozeroff, Shayne Bucholz, and John Semple will be honoured with the Heroes & Rescue Award at the 11th Justice Institute of British Columbia (JIBC) Foundation Awards for Justice and Public Safety Gala on December 3, 2012 at the Hyatt Regency Vancouver. Established in 2004 by the JIBC Foundation, this award is presented for demonstrating courage in carrying out a difficult or heroic rescue, to save another person's life.
Ozeroff, Bucholz and Semple are just three of several individuals and organizations to be recognized for outstanding contributions to justice, public safety, and community leadership at the Gala. Proceeds from the event will provide financial support for JIBC students, starting or advancing their careers as justice and public safety professionals.
Last updated September 30, 2013