Women's firefighting workshop an inspiring, eye-opening experience for participants
Day-long session made possible with the support of the sister of a pioneering female firefighter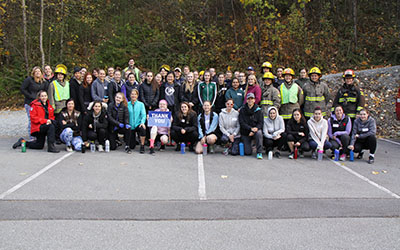 Women from across the Lower Mainland and Fraser Valley spent an eye-opening day learning first-hand what it takes to be a firefighter at a special workshop held recently at the Justice Institute of British Columbia's (JIBC) Maple Ridge campus.
Forty-five women, of which about one-third were teenagers, spoke with, and learned from, a number of female firefighters currently serving in various fire departments in the Lower Mainland. They were supported by JIBC Fire & Safety Division staff and students from JIBC's Fire Fighting Technologies Certificate program.
"It was a great day with encouragement and empowerment for women!" said Charlene Jordan-Jones, deputy director of JIBC's Fire & Safety Division. "We were very pleased to have many of our female faculty lead the session and to have women from each of the participating fire departments share their experiences. We hope this is the starting point of seeing more women applicants to our Fire Fighting Technologies Certificate."
Participants got a taste of the physical fitness requirements for firefighters, performing basic skills like raising ladders, handling fire hoses, and climbing flights of stairs, all in full turnout gear. They also handled some of the key tools firefighters use to save lives and gained an introduction to key life-saving skills like performing cardiopulmonary resuscitation (CPR).
The women also had an opportunity to meet and talk with representatives including fire officers and fire chiefs from various Lower Mainland fire departments about what it takes to become a career firefighter.
"It was a fun, new experience that empowered me today," said Nicole. "Thank you for this experience. Having hands-on training by these experienced firefighters was very valuable to me in choosing to get into this field."
"It was an amazing experience today!" said Karly. "I had been doubting my abilities and wondering if this was a career that would be right for me, but this has swayed me to believe it's definitely a possibility for myself."
"It was really eye-opening for someone who has minimal experience with firefighters," said Erica. "It made me appreciate the profession even more, as well as give me an idea about the diversity of work you all do."
"It was interesting to see all the different roles women play in the firefighting community," said Naomi. "I learned a lot about the steps and process of becoming a firefighter. Thank you for making workshops like this one possible!"
The workshop was made possible with the financial support of Jessica Roberts, in memory of her sister, Jocelyn, a pioneering Richmond firefighter and Captain.
"I was honoured to help support this hands-on event, and provide women the unique opportunity to find out more about what is involved in firefighting as a potential career," said Jessica Roberts. "It was a collaborative effort that could not have been possible without the help of the faculty leading the session, sharing their insights and personal experiences with the participants. It is the kind of opportunity and experience Jocelyn would have wanted to participate in."
"Thanks to Jessica's generosity and admiration for her sister, we were able to bring this much anticipated new initiative to life," said Tracy Campbell, Executive Director of The JIBC Foundation. "The fact that 45 women turned up at 7:30 a.m. on a Sunday at JIBC's Maple Ridge Campus – despite the threat of snow – was confirmation that women are curious about careers in the fire service but just need an opportunity to get their feet wet and see if they have what it takes. We are so grateful for Jessica's support of this initiative that has already positively impacted lives.
About The Justice Institute of British Columbia Foundation
For more than 20 years, The Justice Institute of British Columbia Foundation (The JIBC Foundation) has inspired giving for important needs that enhance education, training, student learning and applied research at JIBC. These needs most often include student scholarships and bursaries, new equipment and technology, and other tools related to student success. As the recipient and steward of charitable gifts, The JIBC Foundation is building meaningful relationships with communities to support Canada's leading public safety educator.
Last updated April 25, 2018