Aboriginal Focusing-Oriented Therapy & Complex Trauma Certificate
This 21-day (10.5 credit) Aboriginal Focusing-Oriented Therapy and Complex Trauma certificate uses Focusing-Oriented Therapy as a safe and effective method of working with clients who experience complex trauma.
This program emphasizes both knowledge and application through classroom instruction, clinical practice (logged and supervised therapy sessions) and clinical supervision/observation. A variety of Aboriginal/ Indigenous treatment modalities are woven throughout the courses, including experiential exercises, story-telling, ceremonial processes and land-based healing techniques.
What is Focusing-Oriented Therapy?
Focusing-Oriented Therapy (FOT) is a body-centred and person-centred approach to healing, developed three decades ago at the University of Chicago by Dr. Eugene Gendlin. FOT allows clients total control of the pace and the direction of their healing journey. It is particularly effective in the treatment and healing of complex trauma caused by accident, sexual, physical, emotional abuse or neglect. FOT has been especially well received in Aboriginal communities because of its humanistic, person-centred approach to healing, which reflects the core values of respect and non-interference. For more information about FOT, visit www.focusing.org.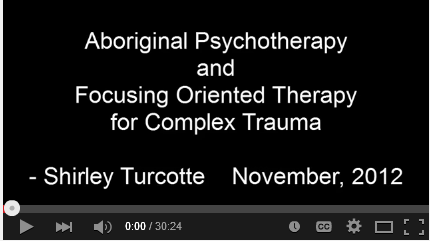 Watch Shirley Turcotte discuss Aboriginal Psychotherapy (30:25 min)
This program benefits Aboriginal and non-Aboriginal counsellors, therapists, front line workers, and others who are interested in developing clinical treatment techniques and strategies essential to healing of traumatic life situations presented by many clients.
Focusing-Oriented Therapy (FOT) is particularly helpful to practitioners who work with residential school survivors, addictions, and survivors of sexual, physical and emotional abuse. The program especially benefits practitioners who work in Aboriginal agencies and/or communities or in various other cross-cultural situations/settings.
While this program is taught from an Aboriginal, land-based knowledge perspective, peoples from all cultures and ethnicities are encouraged to apply.
This program emphasizes both knowledge and application through classroom instruction, clinical practice (logged and supervised therapy sessions) and clinical supervision/observation. The program is highly interactive and experiential and is taught from an Aboriginal perspective.
All courses in this certificate are face-to-face.
Courses must be completed within two years.
Courses are open to certificate students only. However, all or part of the certificate can be offered on a contract basis and customized for your organization, agency or group. For further information please contact the Program Manager at 604.528.5711 or cccs@jibc.ca.
In addition to the certificate received from the JIBC, program graduates are eligible for international certification as a Focusing-Oriented therapist, from the Focusing Institute of New York.
Required Courses (10.5 Credits)
| | | | |
| --- | --- | --- | --- |
| Course Name/Outline | Course Code | Credits | Days |
| | | 1.5 | 3 |
| | | 1.5 | 3 |
| | | 1.5 | 3 |
| | | 1.5 | 3 |
| | | 1.5 | 3 |
| | | 1.5 | 3 |
| | | 1.5 | 3 |
Books & Supplies
Course materials are supplied when you attend class and related costs are included in the tuition fee.
Non-refundable certificate application fee $75
The total tuition for the AFOT certificate is approximately $4600. You pay for courses individually when you register for them. Candidates for this program may be eligible for a variety of bursaries.
International tuition rates are 1.5% x domestic rates.
For individual course fees please see course descriptions or class schedule.
This certificate is open to anyone. There are no formal requirements for admission, however students are selected based on their letter of intent, previous education, training, and/or experience and the strength of their reference. Please note that paraprofessionals who have been working in the field without formal training will also be considered.
Submit your online application form. We recommend you apply as soon as possible, to allow for adequate time to process your application.

You will also need to submit to the Admissions office:
250 word letter of intent describing your interest in the AFOT program and previous related education, training and/or experience.

Resume.
Work letter of reference.
There is a $75 non-refundable application fee; you may include payment with your completed application form or call the Admissions Office to pay your fee over the phone by credit card.
You can reach the admissions office at admissions@jibc.ca or 604.528.5632.
Courses in the Aboriginal Focusing-Oriented Therapy Certificate are restricted to those enrolled in the program. Once your application has been approved, you may register for courses directly with Student Services at 604.528.5590 or register@jibc.ca. Online registration is currently unavailable for courses in admissions-based programs.
Please note, acceptance into the program does not guarantee your seat in a class. We suggest registering at least one month before classes begin as seating is limited.
Last updated July 3, 2019