Certificate in Applied Leadership
This advanced 20-day/10-credit certificate designation focuses on strengthening your capacity, confidence and competencies to lead with accountability, influence and integrity in today's complex environment. This is achieved by reflecting on one's self, relationships and organization.
The program is suitable for emerging leaders in the public, private or not-for-profit sector, seasoned managers interested in building new skills and developing fresh perspectives as well as for informal leaders in any setting.
Courses and certificates are open to anyone. You can register for the entire program or take courses on an individual basis.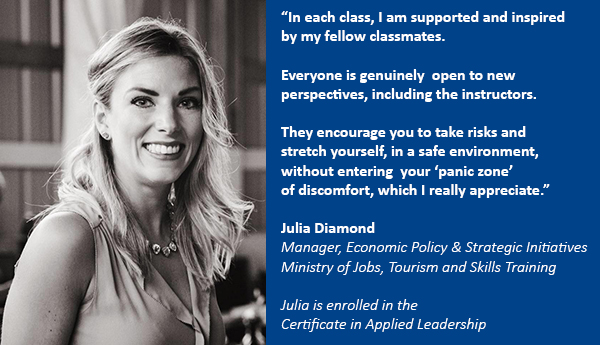 Read what others are saying about taking applied leadership training to the next level: JIBC capstone course (LEAD-1504) gives students a real-time opportunity to apply their skills. Read more here.
Emerging leaders in the public, private or not-for-profit sector
Seasoned managers interested in building new skills and developing fresh perspectives
Informal leaders in any setting
By the end of this certificate you will be able to:
Develop enhanced self-awareness in order to effectively self manage and lead others within the context of constant organizational change.
Align personal and organizational values and ethics in order to lead with accountability, integrity and respect.
Value and engage diversity to maximize organizational effectiveness.
Set personal, team and organization goals and align processes and strategies to achieve results.
Foster creative thinking and critical self reflection to enhance problem-solving and decision-making skills.
Create and manage collaborative relationships to engage, influence and motivate individuals, teams and external partners within and across organizational boundaries.
Engage wellness strategies that enhance resiliency in yourself and others.
Develop communication skills that establish clarity of intent and create shared meaning and understanding.
The certificate program is 20 days of training / 10 credits, with 16 days of required courses and 4 days of electives.
You can take courses individually or complete a certificate.
Learn at your own pace - take courses when they fit your schedule.
Full attendance is required.
There is an assessment component for this certificate. Please see below under "assessment" for more information.
You can intersperse elective courses throughout your program, and can take more than 4 days of electives.
To check current course availability, select the course code below. If you wish to register, follow the instructions on the course listing.

Note: 1 day is equivalent to 7 credit hours. A credit is comprised of 14 hours.
Course dates are available for download below. Courses can be taken individually if you have required pre-requisites, or as part of this credential.
Certificate in Applied Leadership
The

Assessment: Certificate in Applied Leadership (LEAD-1559) is an electronic assessment. See Assessment details here.

Enroll in this assessment when you have completed all required courses and your portfolio is ready to submit for marking; it is recommended that you begin work on your portfolio in LEAD-1100.
You must be enrolled in the CAL certificate program before submitting this assessment. Certificate enrolment forms are found below
under the heading Enrolment Process
Required courses include LEAD-1100, LEAD-1101, LEAD-1102, LEAD-1103, LEAD-1504, and CRES-1100 or CRES-1101 plus 2 elective credits. These courses are required to complete the certificate and are required prior to enrollment in the assessment.
Once you have completed your portfolio, and would like to submit it for assessment, please register and pay for LEAD-1559 Assessment, either online or by calling registration at 604.528.5590.
When you have successfully registered in LEAD-1559 email your portfolio to: leadership@jibc.ca with "LEAD 1559 Final Assessment" in the subject line and your full name, and contact information in the body of the email.
Below is the link to the LEAD-1559 Assessment Webinar
https://www.youtube.com/watch?v=xJ25Pq7EBw4&feature=youtu.be
Certificate enrollment fee is $75.
Cost for the program is approximately $4,700 (costs vary based on choice of electives and course locations).
Books and Supplies:
Course manuals are supplied when you attend class, and if purchase of books or other materials is required, you will be advised of the details when you register.
The courses and certificate are open to anyone. There are no formal requirements for admission.
Register to a class
To check individual course availability, select one the course codes above and follow the instructions on the course listing.
Enroll in the program
Apply Online
Mail
Justice Institute of BC
Student Services
715 McBride Boulevard, New Westminster, BC V3L 5T4
Fax
to Student Services at 604.528.5653
Email
register@jibc.ca
Phone
604.528.5590
or 1.877.528.5591
Last updated March 2, 2020