Learning Resources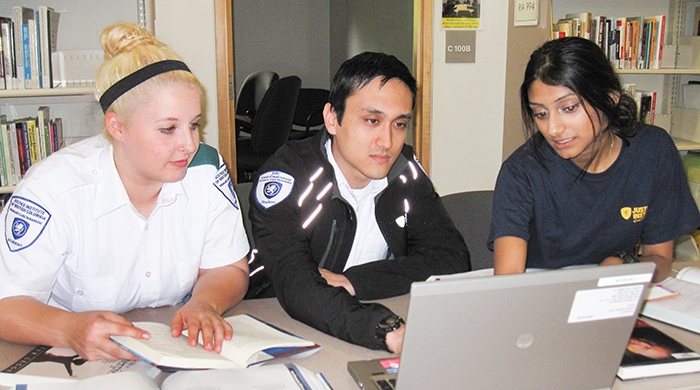 The following resources give you ideas on how to get the most out of your time and energy while enrolled in JIBC courses or programs. Visit the Library for more help.
The best place to start your research is at the JIBC Library. The Library's collection includes books, DVDs, journals, and audio-CDs. In addition, the Library provides access to eResources such as eJournals, eBooks, article databases, streaming media, case law, legislation, codes, and standards.
Contact us
Phone: 604.528.5599
Fax: 604.528.5593
Email: library@jibc.ca
Web: www.jibc.ca/library
Library Services
Library services and resources are available to students at all JIBC campuses and also to online learners. A free mailing service is provided to students registered in JIBC programs.
The Library catalogue and other online resources may be searched while on or off campus. The licensed eResources require a Username/Password for off-campus access. Contact the Library for the Username/Password.
Librarians are available to help you find information for your assignments and to give tips on how to cite your sources.
The JIBC Library participates in AskAway, an online chat reference service that allows students to contact a BC post-secondary librarian during regular hours, in addition to evenings and weekends.
Computers & Internet
The 20-plus computers available for student use in the Library all have Microsoft Office and Internet access. Laptops and iPads are available for short-term loan to New Westminster Campus students registered in JIBC Certificate/Diploma/Degree Programs, actively taking courses. Group study rooms in the Library are equipped with a computer, a 40-inch monitor, a DVD player, and, connections for laptops. Printer, photocopier, and fax services are available for a nominal fee.
Research Tips
Visit the Virtual Learning Commons for Writing and Study Help.
Try the Assignment Calculator to help you complete your essays on time!
Define your topic and write a research question.
Determine what information you need based on assignment requirements.
Search for information on your research question, keeping a research log of terms you used in your search.
Evaluate your findings, to see if your sources are relevant, appropriate, and, authoritative.
Cite all your sources using APA citation style.
Many students find that learning in a postsecondary institution is challenging! High school may seem like it was a long time ago. The workload is huge. The tests are more stressful. And many postsecondary students are juggling work and school. Here are some links to help you improve your work!
JIBC Studying and Learning Strategies
Askaway- online resource
Askaway allows you FREE access to a librarian (yes, a real person!) who can chat with you in real-time and help answer your research and citation-related questions. All services are confidential. Click on the link above to take you to this service.
Here are some additional links to help you with writing.
Grammar:
More information on Study Skills and Test Taking Strategies
Approaching a study session or a test situation requires preparation, repetition, a plan or strategy, and confidence that you will be successful. The more organized, prepared, rehearsed and confident you are, the more likely you'll do well on your tests.
Multiple Choice Tips
Test Anxiety Tips
Study Skills Tips
Memory Strategies:
Effective Reading and Note-taking
Have a research paper and need help with the literature review?
Have an essay and not sure how to choose a topic?
Need someone to help you create or revise a thesis?
Meet with a peer tutor for writing support. It's free and easy to set up.
What is the peer tutor writing program?
JIBC students who possess strong written skills and have received formal training volunteer their time to work one-on-one with other students to help them develop the ability to plan, research, write and edit various written assignments and offer guidance in the use of concise language and citations. Peer tutors are students at the JIBC who have completed at least one year of their academic program and are recommended by a faculty member. They complete the National Tutoring Association's tutor training program and receive ongoing support through the JIBC library and Student Learning Supports.
How to request a tutor
If you are seeking the support of a writing tutor send a request to: writingsupport@jibc.ca
Please note it is important to make a request as early as possible before the assignment due date and at least 3 business days prior to the due date. The Office of Student Learning cannot guarantee tutor availability, even if you make the request well in advance.
Be sure to include the following information in the email request:
Your program
The course name and number
Details of your assignment (best to send a copy of the assignment overview/requirements)
Assignment due date
A brief explanation of what type of writing support you are requesting (e.g. thesis brainstorming; topic selection: formatting: grammar and sentence structure: essay structure and flow etc.)
Whether you are requesting a face to face meeting or are remote and prefer to speak by phone or by Skype (be sure to include your contact information).

Note: if you are studying out of the New Westminster campus appointments should take place in CL201 on campus. If you are not able to meet face to face provide a Skype user name for correspondence. Important: to protect the tutor's privacy her/his contact information is not shared.

Provide at least 3 days/times that would work for you to schedule the first conversation with the tutor, should one be available.
Submit a copy of your written assignment to date (if available).
A request is then sent on your behalf out to the peer writing tutors to see who may be available.
If a tutor is available the Manager will confirm a date/time to meet and share the tutor's name with you. If the meeting is face to face it will take place in CL201 at the New West campus.
Fill out, sign and submit a copy of the Peer Tutor Writing Agreement, Student Copy to the Manager prior to the first tutorial session. A copy will be given to you by the Manager once you have submitted a tutor request.
Appointments take place in CL201 last about 45 minutes to one hour. Bring a hard copy of your paper to your appointment. The tutor will review it and talk with you about ways to improve your writing.
If you are taking classes online or at another JIBC campus and cannot make it to New West for an appointment, you can submit your paper via email. Please email writingsupport@jibc.ca for more information about this option.
Contact Mary Kallberg, the Manager of Student Learning Supports and Disability Resources for more information.
604-528-5884 or (toll free) 1-877-275-4331
Stop by room CL201 on the New West campus
Have you ever stared at a blank page or screen, struggling to start an essay? Have you ever had too many ideas and struggled to organize them into a structured piece of writing? If the answer is yes to either question, you may be missing some important stages of the writing process: planning, generating ideas, and deciding on a focus.

Check out these tips sheets for more information on study skills, writing skills, and stress management techniques. Feel free to print these out or stop by room CL201 on the New West campus to grab a printed copy.
Writing Tips
Mental Wellness Strategies
Last updated January 9, 2019