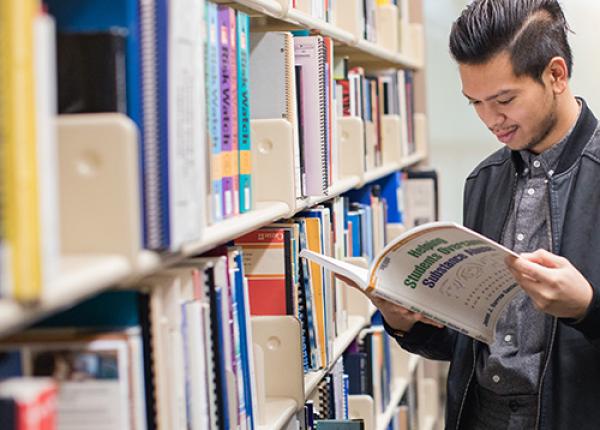 A Unique Collection
The JIBC Library pairs its unique collection with great people.
Our librarians provide research assistance to help students find information on subjects taught at JIBC and can assist with improving studying and writing skills and citing sources correctly.
INTERESTING FACTS 
Specialized Subjects
Conflict Resolution
Corrections 
Courts
Criminology 
Education & Training
Emergency Management
Emergency Medicine 
Family Violence 
Fire 
Indigenous Peoples
Leadership
Management 
Policing 
Search & Rescue 
Diverse Resources
(as of April 2020)
Books (21,454)
eBooks (392,830) 
Audiobooks (115)
 
Print Journals (77) 
eJournals (29,608) 
 
DVDs (2,452) 
Streaming media (29,131)
 
Audio CDs (127) 
the Numbers
(2019-2020 fiscal year)
Visits

30,302 patrons
48,180 website 

Reference

3,834 questions answered
38,425 views of Subject Guides

Instruction

1,330 students attended 70 library sessions

Borrowed

2,445 books & DVDs
4,130 eBook downloads
26,587 article downloads

Interlibrary Loan

132 items borrowed from other libraries
288 items loaned to other libraries
---
GIVE TO THE LIBRARY
Please consider supporting the JIBC Library with a donation through The JIBC Foundation. Your gift gives 27,000 justice, public safety and human services professionals throughout British Columbia greater access to the most relevant information in their fields of expertise.
Looking for help with student life?