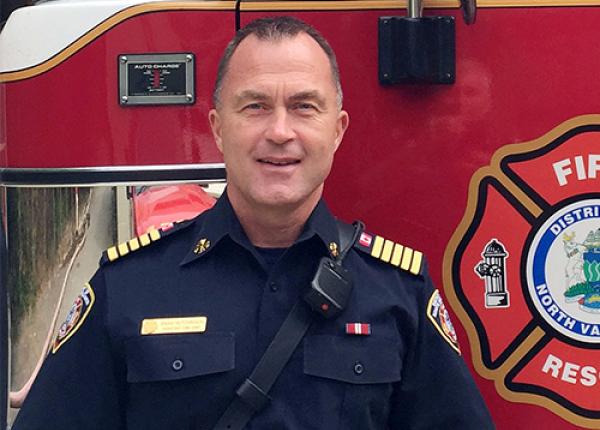 Brian Hutchinson is one instructor who can prepare you to make a difference as a public safety professional.
He is the Fire Chief with the District of North Vancouver Fire & Rescue Services. Prior to joining the DNVFRS as an Assistant Fire Chief, Brian served in various roles with Vancouver Fire & Rescue Services including Recruitment/Outreach, Emergency Management, and as a frontline firefighter.
Brian's area of expertise is in disaster and emergency management, leadership, and strategic planning. And at JIBC, he teaches in a number of programs. He's also been able to share lessons from his personal and professional focus on international development. He has spent several years working with developing nations to enhance their capacity and capabilities to serve and protect their communities from emergencies and catastrophes. Over the past few years, he's joined firefighters from Canada & the USA, and JIBC recipients of the One World Scholarship, to help train firefighters throughout Latin America.
"Opportunities abound at JIBC for those who seek constant challenge and professional development," he said. "The saying that success is a combination of preparation and opportunity rings true. I have been able to share this experience with many others."