2022-2023 Facilitated TIP Foundations Schedule Now Open for Registration
with a Choice of In-Person and Virtual Sessions.
NEW Trauma-Informed Practice (TIP) Foundations Curriculum delivered in a cross-sector format specifically for members of the justice, public safety, and anti-violence community sectors (i.e., police, corrections, Crown, lawyers, and victim services/anti-violence programs) in British Columbia.
As a member of the justice, public safety, and anti-violence community (JPSAV) sectors, you interact with victims/survivors and other individuals in what may be among the most difficult and vulnerable moments of their lives. To support you in that work, a foundational, cross-sector online and in-person trauma-informed practice curriculum for JPSAV sectors has been developed.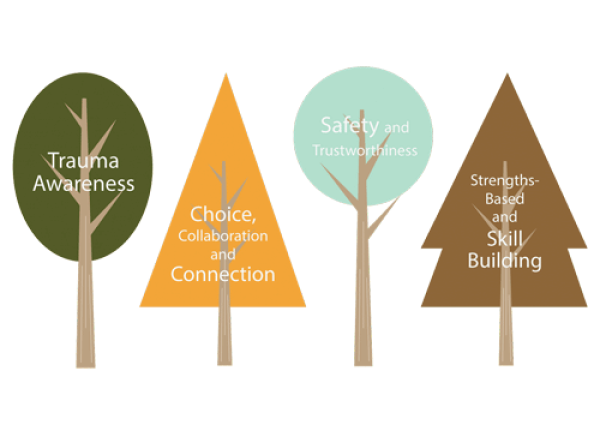 What is Trauma-informed practice
Trauma-informed practice (TIP) focuses on integrating knowledge about how people are affected by trauma into your procedures, practices and services. It does not require you to be experts in trauma or trauma treatment, but rather, it is a way of working that emphasizes safety, trustworthiness, choice, connection, collaboration, strengths, skill building, and self-care.
The curriculum is intended to provide an introduction to TIP and help you to better support victims/survivors as they move through the justice system as well as increase awareness of the ongoing impacts of this work on your own well-being.
The cross-sector nature of this course will help ensure that a consistent set of information is communicated to a broad range of JPSAV personnel and create a shared knowledge base that will allow for increased coordination and collaboration across the sectors. This shared knowledge base will provide a foundation for working with victims/survivors based on the idea of "do no harm" which ensures that victims/survivors are able to successfully engage with, stay involved with, and benefit from their interactions with the justice system.
TIP Project Background and Acknowledgements
The impetus for this course came from British Columbia's fifth Justice Summit, held in November 2015, which focused on a trauma-informed justice system response to victims/survivors of violent crime. The first recommendation of the Summit called for sector participants to design and deliver a common educational curriculum to create a trauma-informed justice and public safety sector. In response, with funding from the Department of Justice Canada, the Province of British Columbia undertook a five-year project to develop and implement a cross-sector trauma-informed practice curriculum for the JPSAV sectors. A cross-sector TIP Project Steering Committee with representation from Crown, Police, Corrections, Private Bar, Victim Services and Violence Against Women Programs, and, in an ex-officio capacity, the Provincial Court provides direction and oversight for the project, and a cross-sector TIP Project Working Group provides additional support.  
As part of the TIP project, individuals from the JPSAV sectors in BC participated in the 2017 TIP Symposium for Justice, Public Safety and Anti-Violence Community Sectors as well as research to support TIP curriculum development. The research included an environmental scan, key informant interviews, a systematic literature review, a compilation of key resources on trauma-informed practice in the justice system, and an overview of current trauma-informed initiatives and training in each sector.
The Justice Institute of British Columbia was contracted by the project to work together with the TIP Project Steering Committee and TIP Project Working Group to develop awareness education based on findings from current research literature; lessons learned from the implementation of TIP in other jurisdictions; and ideas shared by individuals working in the justice, public safety, and anti-violence community sectors.