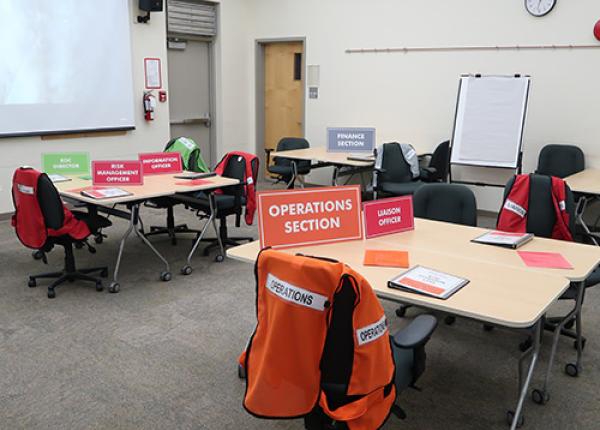 Are these courses right for you?
If you or your team need to gain a foundational understanding of the key roles and activities performed in an Emergency Operation Centre to effectively respond to emergencies, these courses are for you.
CUSTOMIZED COURSES
Customized courses cover essential skills to understand the roles, responsibilities and activities of Emergency Operations Centres.
CONTINUING EDUCATION CREDITS
Apply course credit to meet professional continuing education requirements.
These courses are for any organization or team that requires staff with the knowledge and skills to effectively activate an Emergency Operation Centre (EOC).

Agencies that would benefit from this training include:

EOC teams within community and government agencies, industry sectors or private organizations.
Department Operations Centre (DOC) teams within community and government agencies, industry sectors or private organizations.
Elected officials, or any city or organizational personnel who need to understand EOC and DOC functions.
Personnel from first responder agencies who need to liaise with, or be a representative in, an EOC or DOC during an event.
An EOC uses the principles of the Incident Command System (ICS). They provide communities, agencies or organizations with a model to effectively build capacity for site-level support and consequence management in response to large or complex incidents.

JIBC EOC training helps teams develop knowledge, skills and a variety of strategies, techniques and tools needed in an EOC to help reduce risk and enhance resiliency in response to emergencies or disasters.

 

SUBJECTS

How to establish, set up and staff an EOC
The organizational structure of an EOC
Key roles, responsibilities, activities and tasks
EOC planning process 
Coordination, resource and consequent management 
Site support operations within an Incident Command System structure
Fundamentals of supporting the needs of response departments and agencies during emergencies and disasters
Specific functions in an EOC, including Operations, Planning, Logistics, and Finance and Administration.

 

COURSE OFFERINGS

JIBC EOC courses are available on campus or online. They can also be taken as part of the Emergency Management Certificate program, individually for personal interest, or offered on a customized contract basis hosted by an organization or team. 

 

Continuing Education Units (CEUs)

JIBC emergency management training provides Continuing Education Units (CEUs) to various professional certification programs.
Questions about Emergency Management Contract Courses?
FIND THE RIGHT PROGRAM OR COURSE FOR YOU