JIBC Elders provide spiritual support, encouragement and guidance to Indigenous students, staff and faculty while promoting understanding and respect for Indigenous perspectives, culture and values throughout the JIBC community.
Elders act as surrogate Indigenous grandmothers or grandfathers. They possess a wealth of knowledge and life experiences about Indigenous culture that they are eager to share.

THE ROLES OF ELDERS AT JIBC
Elders are available two to five days per month to work with the JIBC community. Their roles include:
Providing guidance, cultural and spiritual support to students, staff and faculty through one-on-one guidance sessions
Sharing their knowledge and expertise in different areas through cultural teaching activities
Acting as guest speakers in classrooms, JIBC Speaker Series, National Indigenous Peoples Day and other events
Liaising with the Indigenous Advisory Council as needed.
Check out the Elder Guidelines and Protocols to learn about JIBC's Elders and the Elders-In-Residence program and to build a relationship with our resident Elders in a good way.
Elder Guidelines and Protocols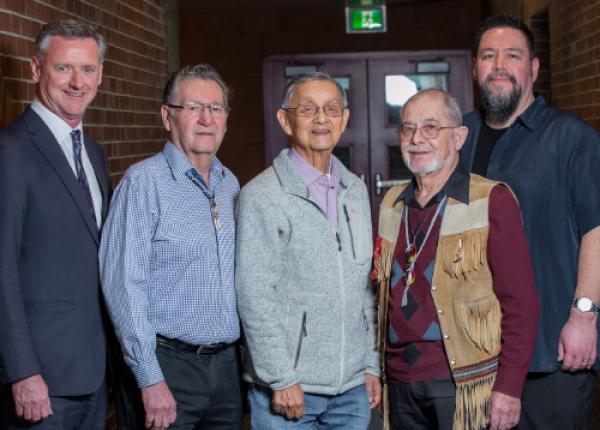 Introduction to the Elders-In-Residence Program
This presentation will provide a basic introduction to the Elders-In-Residence Program at JIBC and Resident Elders will share the many ways this program supports students, staff, faculty and stakeholders of JIBC.
BOOKING A SESSION OR ATTENDING AN EVENT WITH AN ELDER
To set up a confidential one-on-one session in the Elders room, a classroom visit, or for any other type of appointment, email indigenization@jibc.ca.
Or visit the JIBC Events page to see an Elder at an upcoming event.
We respectfully acknowledge JIBC's New Westminster campus is located on the unceded Traditional Territories of the Qayqayt, Musqueam and Coast Salish Peoples.