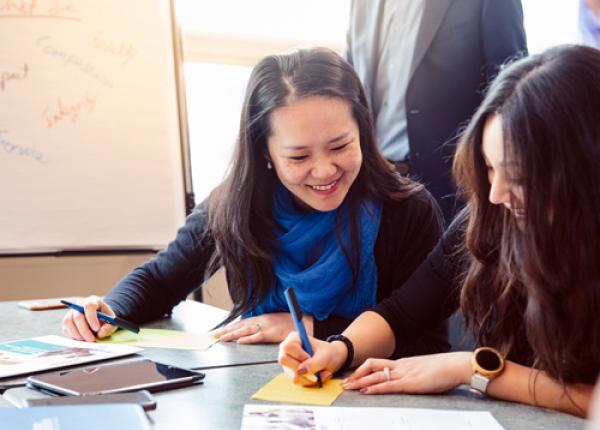 COMPLETING THIS PROGRAM
This program is being discontinued and the program closed to enrollment.
important deadlines
What You Need to Graduate

Four required courses and an assessment demonstrating achievement of the learning outcomes.

Note
Required courses include CRES-1100 or CRES-1101, CRES-1131, CRES-1190, CRES-1231 and CRES-1551.

The mail-in assessment consists of a written or audio preparation for a coaching session with a client as a conflict coach, an audio or AV recording of the role-played conflict coaching session, a written self-evaluation of the role-play and a written reflection on personal learning in the Associate Certificate program.

You must be enrolled in the certificate program before submitting this assessment.

The recommended time to complete this program is 2 years. The maximum time to complete this program is 4 years. Full attendance is required.

Program Format

Twelve days of in-person training followed by submission of a mail-in assessment.

All four courses are scheduled several times throughout the year. Students can take them individually or complete the associate certificate.
Tuition

Tuition for the program is approximately $3,100.

Additional Fees

Certificate Enrolment Fee $75
Learner Services Fee (price dependent on course locations)

Textbooks and Supplies

Course manuals are supplied when you attend class. If additional books or other materials are required, you will be advised when you register for the program.
Q: Who should take this program?
A: People who are interested in working in the conflict resolution field as a mediator or in a specialized area of family mediation, those who would like to have a consulting business, or those interested in pursuing a higher position in their related field.

Q: What are the job opportunities available to me in the conflict resolution field?
A: Entry level positions in the conflict resolution field are diversified and is often a component of other policy, analyst or non-profit careers. Human resources officers often specialize in mediation and staff bargaining. A graduate level degree is almost essential because of the functional expertise it demonstrates.

Q: How do I learn the skills I need to work in the field?
A: The methods utilized in evaluating and analyzing conflict, and in resolving such situations or potential situations, are often learned through a combination of experience and higher education. Acquiring essential skills in the conflict resolution field can be initiated through involvement and concern with the social issues affecting most communities

Q: Do the training hours from this program apply towards admission to the Mediate BC Roster and educational requirements for certification by practitioner organizations, such as ADRBC?
A: Civil and Family Roster applicants can apply their JIBC mediation assessments to the experience portion of their application. A successful JIBC mediation assessment can count for up to three mediations (and nine hours of mediation time) toward the ten mediation experience requirement of a Civil or Family Roster application if the written feedback is included with the application. Contact Mediate BC for more information (mediatebc.com).

Q: Do I need to enroll in the program before I'm able to take courses?
A: You don't have to be enrolled in a certificate program to take our courses. You can take them individually as long as you have the applicable prerequisites.

Q: Do you offer this program online?
A: No. Full attendance in the classroom is required.

Q: I need to miss part of my course. What should I do?
A: If you are unable to attend due to extenuating circumstances, we recommend submitting an appeal to appeals@jibc.ca explaining the reason. Participants may then transfer to another class where they will be required to attend the entire course on the new dates to receive credit.

Q: Are books and course manuals included in the tuition fees?
A: They are supplied when you attend class. If you need to purchase books or other materials, you will be advised of the details when you register.

Q: What if I want to take one of your courses but do not want to pursue a certificate?
A: That's fine. All of our courses are available individually, and you can mix and match the classes depending on your learning needs. After each course, you will receive a letter of attendance. After completing the program requirements, you will receive your certificate.